What Does 1080p Mean?
What does 1080p mean?  When looking for a new TV or home theater system, consumers get very confused.  Our advanced daVideo Rikor video camera glasses record in high quality 1080p HD, but whats it mean?
One confusing part is video resolution. 1080p is an important video resolution word to understand but what does it mean?
The Definition of 1080p
1080p represents 1,920 pixels displayed across a screen horizontally and 1,080 pixels down a screen vertically.
The pixels are arranged in rows or lines. This means that those 1,920 pixels are arranged in vertical rows that cross the screen from left to right (or right to left if you prefer), while the 1,080 pixels are arranged in rows or lines, that go from top to bottom of the screen horizontally. 1,080 (which is referred to as the horizontal resolution – since the end of each pixel row is on the left and right edges of the screen) is where the 1080 part of the term 1080p comes from.
The Total Number Of Pixels In 1080p
You might think that 1,920 pixels displayed across the screen, and 1,080 pixels running from top to bottom, don't really seem that much. However, when you multiply the number of pixels across (1920) and down (1080), the total is 2,073,600. This is the total number of pixels displayed on the screen. In digital camera/photography terms, this is about 2 Megapixels. This is referred to as Pixel Density.
However, while the number of pixels remains the same regardless of the screen size, the number of pixels-per-inch changes as screen sizes change.
Where 1080p Fits In
1080p is considered near the top of video resolution quality for use in TVs and video projectors (currently 4K is the highest – equivalent to 8.3 megapixels), doesn't hold a candle to the megapixel resolution of even most of the inexpensive digital still cameras. The reason for this is that it takes a lot more bandwidth and processing power to produce moving images than still images, and currently, the maximum video resolution that is possible using current technology is 8K, which finally approaches a digital still camera resolution of 33.2 megapixels). However, it will still be few years before we see 8K TVs as a common product offered to consumers.
Whats the "P" part mean?
OK, now that you have the pixel part of 1080p down, what about the P part? What the P stands for is progressive. No, it doesn't have anything to do with politics but has to do with how pixel rows (or lines) are displayed on a TV or video projection screen. When an image is progressively displayed, it means that the pixel rows are all displayed on the screen sequentially (one after the other in numerical order).
This video of Kings Island was recorded with the daVideo Rikor DVR camera glasses.  To see more videos and photos captured with our video camera glasses, click here.
How 1080p Relates To TVs
1080p is part of the High-Definition video standards landscape. For example, HDTVs, especially those that are 40-inches or larger, have at least a 1080p native display (or pixel) resolution (although an increasing number are now 4K Ultra HD TVs).
This means that if you input signal into a 1080p TV that has a resolution of less than 1080p, the TV will have to process that signal so that it will display the image on its entire screen surface. This process is referred to as Upscaling.
This also means that input signals with less than 1080p resolution will not look as good as a true 1080p video resolution signal because the TV has to fill in what it thinks is missing. With moving images, this can result in unwanted artifacts such as jagged edges, color bleeding, macroblocking, and pixelation (this is definitely the case when playing those old VHS tapes!). The more precise guess the TV makes, the better the image will look. The TV should not have any difficulty with 1080p input signals, such as those from Blu-ray Disc, and streaming/cable/satellite services that may offer channels in 1080p.
TV broadcast signals are another matter. Although 1080p is considered Full HD, it is not officially part of the structure that TV stations use when broadcasting high-definition video signals over the air. Those signals will either be 1080i (CBS, NBC, CW), 720p (ABC), or 480i depending what resolution the station, or their associated network has adopted. Also, 4K TV broadcasting is on the way.
1080p
(1920×1080 px; also known as Full HD or FHD and BT.709) is a set of HDTV high-definition video modes characterized by 1,920 pixels displayed across the screen horizontally and 1,080 pixels down the screen vertically; the p stands for progressive scan, i.e. non-interlaced. The term usually assumes a widescreen aspect ratio of 16:9, implying a resolution of 2.1 megapixels. It is often marketed as full HD, to contrast 1080p with 720p resolution screens.
1080p video signals are supported by ATSC standards in the United States and DVB standards in Europe. Applications of the 1080p standard include television broadcasts, Blu-ray Discs, smartphones, Internet content such as YouTube videos and Netflix TV shows and movies, consumer-grade televisions and projectors, computer monitors and video game consoles. Small camcorders, smartphones and digital cameras can capture still and moving images in 1080p resolution.

daVideo Rikor
Our unique patented designed daVideo Rikor 1080p camera sunglasses have a vertically tiltable camera lens that can be adjusted 12° downward and 10° upward. The water resistant frame is made of a super light weight & flexible Grilamid TR90 material, and shaped to fit different head sizes. Our Z87.1 standard, UV400, interchangeable quality lenses are 2.2mm thick and are designed to handle the most extreme sports. This unique model also allows you to easily insert your own prescription lenses.  Adjustable comfortable nose pads allow a custom fit to meet the needs of all different faces.
The daVideo Rikor 1080p camera glasses record at 1080 @ 30fps or 720 @ 60fps.  The 110° wide angle Sony low light sensor lens captures all the action in your videos. The dual channel AAC2 true stereo microphones captures clear audio, with double wheat noise reduction. Built-in WIFI allows you to connect your daVideo Rikor glasses to the iOS/Android app and change settings or instantly save/share your videos with friends.
Click here to see how our most advanced daVideo Rikor camera sunglasses compare with the daVideo Akia and daVideo Presta.
daVideo Rikor Features
HD 1080P / 720P
Records HD 1080P @ 30fps or 720 @ 60fps. Capture perfect point of view video.
TILTABLE LENS
Tilt the camera lens 12° upword or 10° downward to capture the perfect shot.
WIFI / APP
The daVideo Rikor 1080p camera sunglasses can output a wifi signal; wirelessly connect it to any iOS/Android device and app.
IMPACT RESISTANT
Super thick 2.2mm lenses for your video camera glasses. Reinforced frame & impact resistant.
PHOTOS
Your video camera glasses have a built in high quality 12MP camera
Take still photos with a click of a button. Take one picture at a time or take a burst shot of 3 photos at a time.
VIDEO
Compressing format: H.264
Resolution: 1920 x 1080p @ 30fps and 1280 x 720P @ 60fps
Ratio Image: 16:9

VIBRATION NOTIFICATIONS
Video camera sunglasses notify you with vibrating notifications and LED lights
EXPANDABLE MEMORY
Add up to 128gb memory to your video camera sunglasses
LOW TEMPERATURE BATTERY
480mAh high capacity lithium polymer battery handle extreme temperatures between -4 degrees Fahrenheit (-20 degrees Celsius) to 131 degrees Fahrenheit (55 degrees Celsius)  Fully charge battery in about 2 hours.
OUR DAVIDEO RIKOR GUARANTEE
Same Day USPS Shipping (order video camera sunglasses by 3pm EST.)
Free Shipping In The USA
UPS Overnight Shipping (USA Only)
Fast Global Shipping
30 Day Returns & 1yr Warranty
Follow us Online
Facebook – Twitter – YouTube – Instagram – Pinterest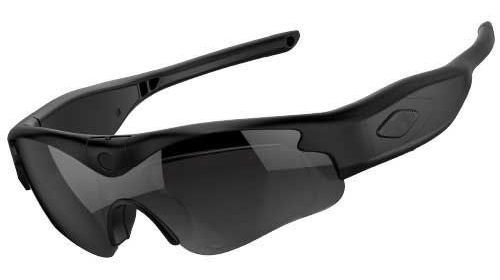 daVideo Rikor – daVideo Akia – daVideo Presta – Compare – Track – Contact – Videos – Coupon Codes – Payments – About Us – Become a Dealer – Warranty – Return Policy – Shipping – Troubleshooting – Dropship – Send Videos