Wi-Fi Pairing to Cell Phone
With our most advanced video camera sunglasses, you can now do Wi-Fi pairing to your cell phone. The daVideo Rikor video camera glasses instantly connect, so you can view images and video straight from the sunglasses.  This allows you to easily view, delete or share your videos and photos to all your friends!  This feature is absolutely perfect for vloggers or anyone out there who wants to instantly upload all their videos and photos to Facebook and social media.  With other video camera glasses sold out there, you have to wait until you got home to your computer to transfer all the files.
This free cell phone app allows you to change all these settings instantly to your video camera glasses: video resolution, recording length, photo resolution, photo burst, white balance, exposure, flicker, date stamp, auto power off, volume, audio, time sync, format, upgrades and more!
Wi-Fi Pairing to Cell Phone
This section explains how to turn on the Wi-Fi pairing signal of the video camera glasses so you can connect your iOS/Android device to it and use the mobile app.
While the camera glasses are powered on, press the Wi-Fi button (next to the power button) for 1 second.  The video camera glasses vibrates 1 time and yellow LED light flashes, indicating Wi-Fi is turned on. To turn off Wi-Fi, press the Wi-Fi button once again.
Turn on your iOS/Android device Wi-Fi settings and connect to the Wi-Fi network and default Wi-Fi password is 12345678. Wait until your iOS/Android device is connected (yellow LED light stays on)
Camera Mobile App Overview
App Features and Settings
Before you use this function, you need to download our free mobile app in the Google Playstore. After installing, you can use the app to control your video camera glasses for taking photos and recording videos.
Camera
The app gives you real time live viewing that sync up with your video camera glasses.  You can start/stop recording video and taking photos with the app.
SD Files
This folder shows videos and photos stored on the micro SD card of the video camera glasses. Select files to share with your friends or save them to your iOS/Android cell phone.  Once the files are saved to your cell phone, those will display in the Saved Media folder.  You can also delete files (means the files stored on the SD card would be dropped permanently)
Local Files
This folder shows the photos and videos that are saved in the mobile app.  No matter if you connect to the video glasses or not, these files will display there.  You can open to view them or share files to your friends and social media.
Settings
To change settings, please stop recording first and then make sure its in standby mode.  You can also rename the Wi-Fi network name, change the password, set video resolution, white balance, photo burst, etc. via app settings.

This video of Kings Island was recorded with the daVideo Rikor DVR camera glasses.  To see more videos and photos captured with our video camera glasses, click here.
High Quality HD 1080p Video Recording
Our daVideo Rikor video camera glasses record stunning high quality video.  Able to record super fast 60fps to capture extremely fast sports action.  Our video sunglasses record perfect point of view POV video 1080p HD 30fps or 720p 60fps.
Video compressing format: H.264
Video Ratio Image: 16:9
Built in 12MP High Resolution Camera
With a single click of a button you can snap high resolution 12MP photos.  Take a single photo at a time or you can even snap a burst of 3 or 5 photos at a time.  Built in Sony sensor so you can even take great photos in low light.  While you are recording video, you can even snap photos without interupting your recording.
Tough Durable Lens and Frames
Our camera sunglasses are made tough to handle the most extreme sports.  Our glasses are ANSI Z87.1 certified which means we meet and exceed to standards of impact and heat resistance.  Made of Grilamid TR90 material, so they are comfortable to wear while also being lightweight and flexible. 2.2mm thick lenses which are UV400 to block out 100% of all UVA, UVB, UVC and harmful blue light up to 400nm protection.
Realistic Clear True Stereo Sound
You can capture amazing realistic stereo sound with our HD camera glasses, making it feel like you are right there. Record audio from all directions with our built in AAC2 channel dual microphones.
Connect Glasses to Cell Phone
You can connect the daVideo Rikor video camera glasses to your cell phone.  Works on all iOS and Android devices using our free mobile app.  Instantly change all your settings and recording quality with a click of a button.  Update settings such as white balance, volume, exposure, saturation, resolution, photo burst, etc.  You can even use your cell phone as a remote to start and stop recording on your glasses!  With our mobile app you can download and share all your videos and photos with your friends through Facebook, Snapchat and Instagram.
Hands Free Vibration Alerts
Many athletes over the years have told us they want DVR camera glasses to be as hands free as possible.  They dont want glasses that they have to take off, look to see if any lights are on or flashing, while in bright sunlight.  We have listened, so now we feature hands free vibration alerts.  You will feel a vibration when you start recording and when you stop recording so you never have to take your glasses off.  We do have LED lights which also notify you, if you are in darker lit areas to see.  With both new features built into our glasses, you will never miss any action!
Unique Features
110 degree wide angle lens allows you to record everything you see in your field of vision!  You can even tilt the camera lens up and down to get that perfect shot.
To this day, we are the only 60fps spy camera glasses that are able to store up to 128GB memory!  This means you will never have to worry about running out of space recording videos or taking too many photos.  Even at extremely high 12MP resolution photos, you can fit over 30,500 photos.  We also offer 16GB, 32GB, 64GB and 128GB cards depending on how much memory you need.
Our glasses are designed to handle extreme temperatures of any environment.  Go skiing in extreme cold temperatures or go hiking in the hot desert.  480mAh high capacity lithium polymer battery handle extreme temperatures between -4 degrees Fahrenheit (-20 degrees Celsius) to 131 degrees Fahrenheit (55 degrees Celsius),  Full battery charge takes about 1-2 hours.
Click here to see how our most advanced daVideo Rikor camera sunglasses compare with the daVideo Akia and daVideo Presta.
OUR DAVIDEO RIKOR GUARANTEE
Same Day USPS Shipping (order video camera sunglasses by 3pm EST.)
Free Shipping In The USA
UPS Overnight Shipping (USA Only)
Fast Global Shipping
30 Day Returns & 1yr Warranty
Follow us Online
Facebook – Twitter – YouTube – Instagram – Pinterest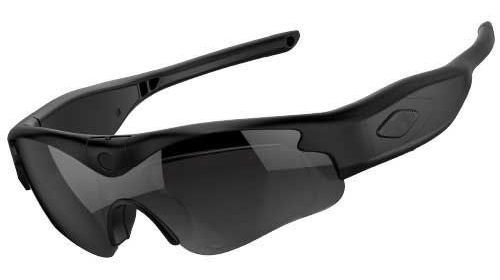 daVideo Rikor – daVideo Akia – daVideo Presta – Compare – Track – Contact – Videos – Coupon Codes – Payments – About Us – Become a Dealer – Warranty – Return Policy – Shipping – Troubleshooting – Dropship – Send Videos