ANSI Z87.1 Standards – Whats It Mean?
Our daVideo Rikor video camera glasses are made using ANSI Z87.1 standards.  We feature a 2.2mm thick interchangeable lens in our glasses.  The quality lens of 2.2mm exceeds optical requirements of ANSI Z80.3, AS/NZS 1067, EN 1836 standards, ANSI Z87.1 standard.
Blocks out 100% of all UVA, UVB, UVC and harmful blue light up to 400nm protection.  Lightweight, shatter proof and impact resistant tough material. Fully certified for eye protection.
All our lenses meet AS/NZS 1067, EN 1836, ANSI Z80.3 standards for optical and mechanical  performance. Light transmission ranges from 10%-95% of available light.  All transmission profiles are based on data obtained according to AS/NZS 1067, EN 1836 and ANSI Z80.3 test protocols.  Perfect for outdoor activities and extreme sports.
What Does ANSI Z87.1 Standards Mean?
ANSI is an acronym for the American National Standards Institute, a nonprofit organization the the primary mission to "Enhance both the global competitiveness of U.S. business and the U.S. quality of life by promoting and facilitating voluntary consensus standards and conformity assessment systems and safeguarding their integrity."
In other words, ANSI Z87.1 standards create uniform testing standards and guidelines for a variety of products and equipment used by businesses in nearly every sector.
The ANSI Z87.1 standards portion references the standard for personal Occupational and Educational Personal Eye and Face Protection Devices. These standards help ensure personal eye and face protection devices provide the necessary protection from impact, non-ionizing radiation, and liquid splash exposures.
The ANSI Z87.1 standards has been updated twice since 2003, with revisions in 2010 and 2015. These updates focus on product performance and attempt to harmonize with international standards while keeping the needs of end users in mind with consideration to workplace hazards and regulatory obligations.
The current ANSI.1-2015 standard continues to differentiate protectors based on specific risks with additional emphasis placed on enabling users to select the appropriate protector based on their environment and the hazard.
General Requirements For ANSI Z87.1 Standards
Since most people have never read the ANSI Z87.1 document, they may not fully understand what this certification covers. The ANSI Z87.1 standards help in this effort by providing a certification system organized based on encountered hazards.
The ANSI Z87.1 standards means the choice of safety eyewear revolves around what best represents the protection needed for the specific hazards encountered in the workplace. The most common hazards include:
Blunt impact
Radiation
Splashes and droplets
Dust
Small dust particles
Most safety eyewear manufacturers now provide packaging and product information revolving around how products meet these standards. Note that prescription safety lenses are also allowed under this standard. Previously, they had to be a certain thickness, but thinner prescription lenses are now allowed if they meet high-impact ANSI Z87.1 standards testing requirements.
What Is The ANSI Z87.1 Standards Testing Process?
ANSI Z87.1 standards safety glasses undergo intensive testing to ensure they'll protect eyes as expected. Tests include…
Basic and high-impact for lenses and frames.
Exposure to non-ionizing radiation and chemicals.
Durability to flammables and corrosion.
After seeing how badly non-safety-rated eyewear fails these basic tests, you'll only want to purchase ANSI Z87.1 standards eyewear.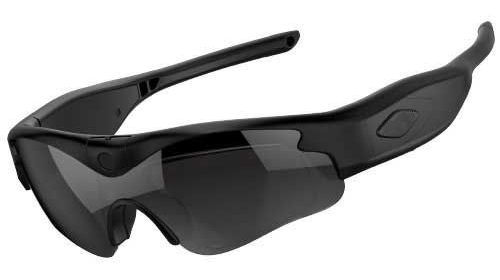 daVideo Rikor
Our daVideo Rikor video camera glasses may be the most high tech sunglasses you have ever seen.  On this new model we feature a tiltable camera lens that can adjust up and down.  The frame is water and sweat resistant, made of very lightweight Grilamid TR90.  Flexible and comfortable frames able to fit different shapes of faces.  The lenses in the daVideo Rikor are 2.2mm thick, to handle the most extreme sports and activities. ANSI Z87.1 standards lenses meet and exceed the standards for the most durable sunglasses.  Comfortable nose pads which can be adjusted are featured on this pair of glasses.
Super fast video recording.  The daVideo Rikor can record 1080p 30fps or 720p 60fps.  110 degree wide angle camera lens allows you to record everything you see in your field of vision.  Dual channel AAC2 stereo microphones will capture realistic sound.  Connect your video glasses to any iOS or Android device so you can download and share all your photos and videos with friends.

Click here to see how the daVideo Rikor camera sunglasses compare with the daVideo Akia and daVideo Presta.
This video of the Diamondback at Kings Island was recorded with the daVideo Rikor DVR camera glasses.  To see more videos and photos captured with our video camera glasses, click here.
daVideo Rikor Features
High Quality HD 1080P / 720P
Records HD 1080P @ 30fps or 720 @ 60fps. Capture perfect point of view video.
TILTABLE LENS
Tilt the camera lens 12° upword or 10° downward to get different types of shots.
WIFI / APP
The daVideo Rikor 1080p camera sunglasses outputs a wifi signal to connect to any iOS / Android device.
IMPACT RESISTANT LENSES
Extremely thick 2.2mm lenses for your video camera glasses. Reinforced frame & impact resistant. Meets and exceeds ANSI Z87.1 standards.
12MP PHOTOS
Your video camera glasses have a built in high resolution 12MP camera
Snap photos with a click of a button. Take one picture at a time or take a burst shot of 3-5 photos.
HD VIDEO
Compressing format: H.264
Resolution: 1920 x 1080p @ 30fps and 1280 x 720P @ 60fps
Ratio Image: 16:9

VIBRATION NOTIFICATIONS
Video camera sunglasses will notify you with vibration notifications and LED lights
EXPANDABLE MEMORY
Add up to 128gb memory to your video camera sunglasses
LOW TEMPERATURE BATTERY
480mAh high capacity lithium polymer battery handle extreme temperatures between -4 degrees Fahrenheit (-20 degrees Celsius) to 131 degrees Fahrenheit (55 degrees Celsius)  Fully charge battery in about 2 hours.
OUR ANSI Z87.1 Standards GUARANTEE
Same Day USPS Shipping (order video camera sunglasses by 3pm EST.)
Free Shipping In The USA
UPS Overnight Shipping (USA Only)
Fast Global Shipping
30 Day Returns & 1yr Warranty
Follow us Online
Facebook – Twitter – YouTube – Instagram – Pinterest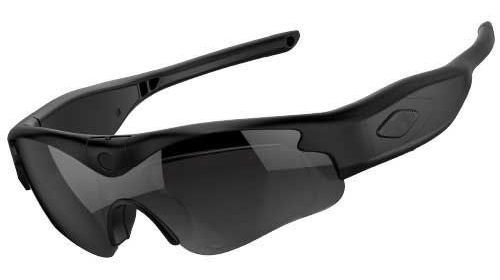 daVideo Rikor – daVideo Akia – daVideo Presta – Compare – Track – Contact – Videos – Coupon Codes – Payments – About Us – Become a Dealer – Warranty – Return Policy – Shipping – Troubleshooting – Dropship – Send Videos