Live Feed Camera Glasses – daVideo Rikor
Our live feed camera glasses are the most advanced video camera glasses you may have ever seen. With our newest model, the daVideo Rikor, you can connect via WIFI to your cell phone.  Once you have downloaded our mobile app, you can see live video feed through your phone!  Our camera glasses record amazing 60fps 1080p video for extreme action sports. Instantly record everything you see with a single click of a button.
The video you record through the sunglasses, shows a live preview on your cell phone via our app.  You CANNOT live stream to youtube or facebook, as there is no technology out there that is capable of this yet.  You will have to record all your videos to your cell phone and then upload your videos.
The daVideo Rikor may possibly be the best HD camera glasses you have ever seen.  Why do we think our daVideo Rikor are the best camera sunglasses ever made?  Our live feed camera glasses record at an incredible 60fps speed and able to support up to 128GB of storage.  That means you can store thousands of HD videos or over 30,500 high resolution 12MP photos!  If you dont need 128GB memory, we also offer 16GB, 32GB and 64GB micro SD cards. Click here to see what 60fps and 30fps means.
daVideo Rikor Features
In our latest most advanced model ever, the daVideo Rikor, we feature vibration alerts.  Athletes from around the world asked for glasses they could record hands free without ever having to look at LED lights.  Now you can feel the frames vibrate each time you start and stop your recordings.  We still feature LED lights so you have the ability to see exactly what mode your live feed camera glasses are in. You can click here to read our video camera sunglasses instructions.
With our unique HD camera sunglasses, you can change all the camera settings right through your iOS and Android device.  With other live feed camera glasses on the market, you cannot do this, or you would have to wait until you are home on computer to make changes.  Download our free Wi-Fi mobile app, and instantly update all your camera settings for any situation.  We give you the ability to see live feed, streaming video, change recording resolution, exposure, volume, saturation, white balance and more.  You can even use your cell phone as a remote control to start and stop recording. Instantly download and share all your photos and videos with your friends on Facebook, Snapchat and Instagram.
This video of Kings Island was recorded with the daVideo Rikor DVR camera glasses.  To see more videos and photos captured with our video camera glasses, click here.
Advanced Features
One of the best features in our latest sunglasses with camera and microphone, is the realistic true stereo sound.  Built in AAC2 channel dual microphones set our glasses apart from the competition.  While watching the videos, you can actually hear the sounds coming from all different directions. The daVideo Rikor is not sold in Walmart or Best Buy.
If you need durable strong HD camera glasses for extreme sports, you found the right place.  We are proud to say our daVideo Rikor meets and exceeds ANSI Z87.1 standards.  This certification means our live feed camera glasses pass the extensive impact and heat resistant tests.  You can also click here to see what ANSI Z87.1 certification means.  Our thick 2.2mm UV400 lenses block out 100% of all UVA, UVB, UVC and harmful blue light up to 400nm protection.  We use Grilamid TR90 material, so they are comfortable to wear while also being lightweight and flexible.
Our DVR camera glasses can handle extreme sports at the most extreme temperatures.  480mAh high capacity lithium polymer battery handles temperatures between -4 degrees Fahrenheit (-20 degrees Celsius) to 131 degrees Fahrenheit (55 degrees Celsius).  Fully charge the battery in about 1-2 hours. Our glasses make a perfect alternative to much higher priced gopro action cameras.
Click here to see how our most advanced daVideo Rikor DVR camera sunglasses compare with the daVideo Akia and daVideo Presta.

Click here to see how our most advanced daVideo Rikor live feed camera glasses compare with the daVideo Akia and daVideo Presta.
Live Feed Camera Glasses Guarantee
Same Day USPS Shipping (order live feed camera glasses by 3pm EST.)
Free Shipping In The USA
UPS Overnight Shipping (USA Only)
Fast Global Shipping
30 Day Returns & 1yr Warranty
Follow us Online
Facebook – Twitter – YouTube – Instagram – Pinterest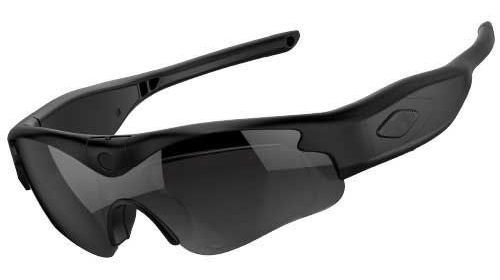 daVideo Rikor – daVideo Akia – daVideo Presta – Compare – Track – Contact – Videos – Coupon Codes – Payments – About Us – Become a Dealer – Warranty – Return Policy – Shipping – Troubleshooting – Dropship – Send Videos