Australia Camera Glasses – daVideo Rikor
Australia camera glasses are not sold in Australia, but we can ship them same day ordered. It usually takes about a week or two for Australian orders to arrive.  Our Australian customers love recording kangaroos and koalas out in the wild.  We only charge $20 shipping to Australia for our video glasses.
daVideo Rikor camera glasses record stunning 60fps 1080p video for action sports. Instantly record everything you see with a click of a button.
Australians and people from all over the world love using our daVideo Rikor glasses.  Our glasses feature a unique tiltable lens which you can adjust up and down.  Our frames are made of Grilamid TR90 which are very lightweight and flexible.  Lenses we use are all 2.2mm thick ANSI Z87.1 standard, which means they are made extremely durable. You can click here to see what ANSI Z87.1 standards mean.
Our video glasses can keep up with the fastest action while recording at 1080p 30fps and 720p 60fps. The camera lens is 110 degrees wide which means it records everything you can see.  Capture crisp clear sound with our AAC2 dual channel true stereo built in microphones.  Connect our glasses to your cell phone to download and share all your videos and photos with your friends.

Click here to see how our outstanding daVideo Rikor camera glasses compare with the daVideo Akia and daVideo Presta.
This video of the Diamondback at Kings Island was recorded with the daVideo Rikor DVR camera glasses.  To see more videos and photos captured with our video camera glasses, click here.
PHOTOS
Your video camera sunglasses have a built in high quality 12MP camera
Take still photos with a click of a button. Take one picture at a time or take a burst shot of 3 photos at a time.
VIDEO
Compressing format: H.264
Resolution: 1920 x 1080p @ 30fps and 1280 x 720P @ 60fps
Ratio Image: 16:9
HD 1080P / 720P
Records HD 1080P @ 30fps or 720 @ 60fps. Capture perfect point of view video.
TILTABLE LENS
Tilt the camera lens 12° upword or 10° downward to capture the perfect shot.
WIFI / APP
The daVideo Rikor Australia camera glasses can output a wifi signal; wirelessly connect it to any iOS/Android device and app.
IMPACT RESISTANT
Super thick 2.2mm lenses for your video camera glasses. Reinforced frame & impact resistant.
VIBRATION NOTIFICATIONS
Video camera sunglasses notify you with vibrating notifications and LED lights
EXPANDABLE MEMORY
Add up to 128gb memory to your video camera sunglasses
LOW TEMPERATURE BATTERY
480mAh high capacity lithium polymer battery handle extreme temperatures between -4 degrees Fahrenheit (-20 degrees Celsius) to 131 degrees Fahrenheit (55 degrees Celsius)  Fully charge battery in about 2 hours.
OUR DAVIDEO RIKOR GUARANTEE
Same Day USPS Shipping (order video camera sunglasses by 3pm EST.)
Free Shipping In The USA
UPS Overnight Shipping (USA Only)
Fast Global Shipping
30 Day Returns & 1yr Warranty
Follow us Online
Facebook – Twitter – YouTube – Instagram – Pinterest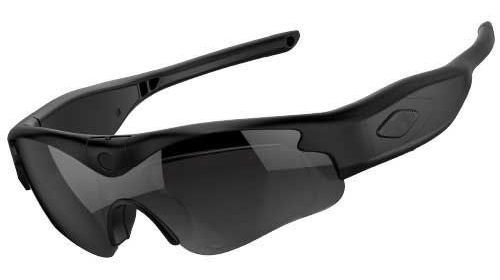 daVideo Rikor – daVideo Akia – daVideo Presta – Compare – Track – Contact – Videos – Coupon Codes – Payments – About Us – Become a Dealer – Warranty – Return Policy – Shipping – Troubleshooting – Dropship – Send Videos