Firehawk Roller Coaster Kings Island
Our daVideo video camera glasses are perfect for recording video on the Firehawk roller coaster at Kings Island Amusement Park. Snap photos and record HD 1080p video in 60fps with all your friends and family.  Our most advanced video recording glasses just released are the daVideo Rikor.  The daVideo Rikor record video in 60fps and are compatible with 128GB storage!
Firehawk roller coaster is a flying roller coaster located at Kings Island in Mason, Ohio. Manufactured by Vekoma, it originally opened as X-Flight at Six Flags Worlds of Adventure on May 26, 2001, billed as the Midwest's first and only flying roller coaster. Cedar Fair purchased Worlds of Adventure in 2004 and began efforts to downsize the park. X-Flight was relocated to Kings Island following the 2006 season, where it reopened as Firehawk roller coaster on May 26, 2007.
Firehawk roller coaster layout is identical to Batwing, another Vekoma Flying Dutchman model from Vekoma, located at Six Flags America amusement park. On September 27, 2018, Kings Island announced that the ride would be removed following the end of the 2018 season.
History
Six Flags Worlds of Adventure/Geauga Lake (2001–2006)
While the park was still named Six Flags Ohio, plans for a new roller coaster known as X-Flight were revealed on January 4, 2001. Six days later, Six Flags purchased SeaWorld Ohio – next to Geauga Lake – with the intent of merging the two to create Six Flags Worlds of Adventure. The new venture advertised X-Flight as the first Flying roller coaster in the Midwest, and it was the park's tenth roller coaster overall – the fifth added since 2000. The new coaster was built on a former bus parking lot, and Geauga Lake Road had to be rerouted around the ride. Regarding the design of the attraction, Jake Bateman, Vice President and General Manager of Six Flags Worlds of Adventure, said:
" X-Flight will be so thrilling and so unique that a new category far above ultimate will have to be created to describe the experience. There is nothing to compare it to in Ohio or the Midwest, for that matter. "
X-Flight while at Geauga Lake
Land clearing began on December 1, 2000, and construction on the footers began February 9, 2001. X-Flight was originally supposed to open in early May 2001, but due to technical difficulties, its opening was delayed. During testing, problems were discovered with several devices including the reclining mechanism on the trains and their restraints. X-Flight's media day was eventually held on May 24, 2001, and the ride officially opened two days later on May 26.
Cedar Fair purchased the park from Six Flags in 2004 for $145 million. They announced intentions of returning the park to its roots as a family-oriented amusement park. The efforts to downsize the park eventually led to X-Flight's removal. On November 22, 2006, Geauga Lake park officials announced that X-Flight was being dismantled to be sent to another unspecified Cedar Fair property. Moving the ride would take some time, as the final sections of track and supports wouldn't be removed until March 2007.
Kings Island (2007–2018)
On January 22, 2007, green Vekoma track resembling the track of X-Flight was spotted at Kings Island, a Cedar Fair park in Mason, Ohio. On February 5, 2007, Kings Island officially announced Firehawk roller coaster as the former X-Flight roller coaster from Geauga Lake. Construction was scheduled to begin later that month, and the opening was set for Memorial Day weekend later that year. X-Flight's neon green track and dark blue supports were re-painted red and steel gray, respectively.
It was built in an area next to Flight of Fear, creating a new area named X-Base which connects to nearby area Coney Mall via a walkway under Racer's lift hill. Firehawk officially opened as scheduled on May 26, 2007. It was the first roller coaster to be introduced at the park since Cedar Fair purchased it from Paramount Parks in 2006. The first 2,500 riders received commemorative Firehawk T-shirts. On September 27, 2018, Kings Island announced that Firehawk roller coaster would close permanently on October 28, 2018. It will be dismantled and removed from the park.
Ride experience
Track
The steel track is 3,340 feet (1,020 m) in length, and the height of the lift is 115 feet (35 m). There are approximately 300 sections of track colored red with steel gray supports. When the ride operated at Geauga Lake, the track was neon green with dark blue supports.
Firehawk roller coaster has a total of five inversions – one vertical loop, two inline twists, and four 180-degree inline twists that are each counted as a half inversion. These 180-degree inline twists are also known as "Lie to Fly" and "Fly to Lie" elements, in which riders on their backs are flipped to face the ground or vice versa.
Layout
Once riders are seated and restrained, the train is tilted backwards into a 'lay-down' position and dispatched. The train travels backwards out of the station, turns left and travels up the 115-foot (35 m) lift hill at a 33 degree angle. Once the train reaches the top of the lift hill, it dips down into a twist (called a "Lie-to-Fly") that turns the trains upside down into a flying position where riders face the ground. After the twist, the train travels down the first drop, reaching speeds of 51 mph (82 km/h).
Riders then proceed through an over banked Horseshoe Curve element, passing the queue area. Following the Horseshoe, the train enters a "Fly-to-Lie" element that turns riders back to a lay-down position. After the banked turn, the ride enters the 66-foot (20 m) tall vertical loop, where riders experience 4.3 G's. The train then goes into another "Lie-to-Fly" element. Following the loop, riders enter another turn and hit two consecutive inline twists. Following the inline twists, the train enters the final helix followed by the final "Fly-to-Lie" element. Afterwards, the train is slowed to a stop on the brake run before returning to the station.
Station
The coaster features a dual station which is connected to the main track using a switch track segment (similar to a railroad switch). Dual-station operation allows for two trains to be loaded simultaneously for more efficient operation. This configuration existed since the ride debuted at Geauga Lake.
Trains
Firehawk roller coaster currently operates with two trains. There are six cars with four seats in each row for a total of 24 riders per train. There were three trains during the ride's first year at Geauga Lake, however only two have been used since. The third train became a parts donor for the first two. Originally, riders reclined on the lift hill – rather than in the station – and returned to an upright position prior to re-entering the station. However, this was changed to occur in the station due to problems that arose during the ride's first season. The trains feature the Firehawk roller coaster logo on the front colored yellow and red. Previously at Geauga Lake, the X-Flight logo was colored lime green and dark blue.
Incident
On August 8, 2009, an adult male passenger was rushed to a hospital after he was found with breathing problems following the ride. He died the same evening. The Hamilton County Coroner's Office reported that a heart condition was the likely cause of death and ruled it natural. The ride was re-opened at 12:10 pm on August 9, 2009, after an inspection by the Ohio Department of Agriculture – a division of the state government responsible for amusement park ride safety in Ohio. They determined the ride was operating within the manufacturer's specifications.
Banshee – The Bat – Delirium – Drop Tower: Scream Zone – Invertigo – Xtreme Skyflyer – Backlot Stunt Coaster – The Racer – Vortex – WindSeeker – Firehawk – Flight of Fear – Boo Blasters on Boo Hill – Eiffel Tower – Adventure Express – SlingShot – Flying Ace Aerial Chase – Woodstock Express – Diamondback – Kings Island & Miami Valley Railroad – Mystic Timbers – The Beast

Record Video on Firehawk Roller Coaster
Our HD quality daVideo Rikor 1080p camera sunglasses have a unique tiltable camera lens that can be adjusted 12° downward and 10° upward. The water resistant frame is made of a super lightweight & flexible Grilamid TR90 material, shaped to fit different head sizes. Our ANSI Z87.1 standard, UV400, interchangeable quality lenses are 2.2mm thick and are designed to handle extreme sports. Adjustable comfortable nose pads allow a custom fit to meet the needs of all different shaped faces.
The daVideo Rikor 1080p camera sunglasses record at 1080 @ 30fps or 720 @ 60fps.  The 110° wide angle Sony low light sensor lens captures high speed action in your videos. The dual channel AAC2 true stereo microphones capture crisp clear audio, with noise reduction. Built-in WIFI allows you to connect your daVideo Rikor glasses to our free iOS/Android mobile app and change settings or share your videos with friends.
Click here to see how our high tech daVideo Rikor 1080p camera sunglasses compare with the daVideo Akia and daVideo Presta. Visit our shop to see all our products.
This video of Kings Island was recorded with the daVideo Rikor DVR camera glasses.  To see more videos and photos captured with our video camera glasses, click here.
daVideo Rikor Features
HD 1080P / 720P
daVideo Rikor HD video camera sunglasses record 1080P @ 30fps or 720 @ 60fps. Capture perfect (POV) point of view video on Firehawk roller coaster.
TILTABLE LENS
Tilt the camera lens 12° upword or 10° downward to capture the perfect shot.
WIFI / APP
The daVideo Rikor 1080p camera sunglasses can output a wifi signal. Wirelessly connect it to any iOS/Android device using our free mobile app.
IMPACT RESISTANT
Thick 2.2mm lenses for your video camera glasses. Reinforced frame & impact resistant.
PHOTOS
Our advanced video camera glasses have a built in high quality 12MP camera
Take still photos with one easy click. Take one picture at a time or take a burst shot of 3 or even 5 photos at a time!
VIDEO
Compressing format: H.264
Resolution: 1920 x 1080p @ 30fps and 1280 x 720P @ 60fps
Ratio Image: 16:9

VIBRATION NOTIFICATIONS
Video camera sunglasses notify you with vibrating notifications and LED lights. Perfect for hands free operation while enjoying your favorite activity.
EXPANDABLE MEMORY
Add up to 128gb memory to your video camera sunglasses. This means you can store up to 30,500 12MP photos!
LOW TEMPERATURE BATTERY
480mAh high capacity lithium polymer battery can handle extreme temperatures between -4 degrees Fahrenheit (-20 degrees Celsius) to 131 degrees Fahrenheit (55 degrees Celsius)  Takes about 1-2 hours to fully charge battery.
Our 1080p Camera Sunglasses Guarantee
Same Day USPS Shipping (order video camera sunglasses by 3pm EST.)
Free Shipping In The USA
UPS Overnight Shipping (USA Only)
Fast Global Shipping
30 Day Returns & 1yr Warranty
The Beast Roller Coaster Photos – Kings Island Haunt Photos – Cincinnati Zoo Photos – Rock Climbing Photos – Dog Photos
Backlot Stunt Coaster Video – The Racer Video – WindSeeker Video – Adventure Express – Diamondback – Mystic Timbers – The Beast
Follow us Online
Facebook – Twitter – YouTube – Instagram – Pinterest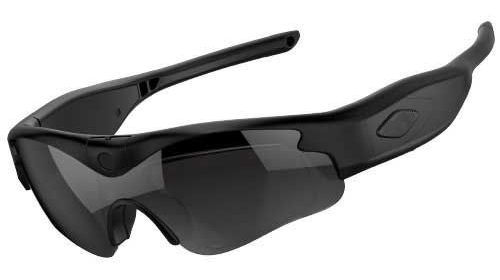 daVideo Rikor – daVideo Akia – daVideo Presta – Compare – Track – Contact – Videos – Coupon Codes – Payments – About Us – Become a Dealer – Warranty – Return Policy – Shipping – Troubleshooting – Dropship – Send Videos – Account – Cart – Checkout – Shop