The Bat Roller Coaster Kings Island
Our daVideo video camera glasses are perfect for recording video on the Bat Roller Coaster at Kings Island Amusement Park. Snap photos and record HD 1080p video in 60fps with all your friends and family.  Our most advanced video recording glasses just released are the daVideo Rikor.  The daVideo Rikor record video in 60fps and are compatible with 128GB storage!
The Bat roller coaster, formerly called Flight Deck and Top Gun, is a suspended roller coaster at Kings Island in Mason, Ohio. Built by Arrow Dynamics, the ride was known as Top Gun when it opened in 1993. It is the park's second suspended coaster following an earlier prototype from Arrow Development — also called The Bat roller coaster – that operated at Kings Island from 1981 to 1983. The layout is designed to give riders the illusion they are narrowly missing track supports and other elements while swinging through sharp turns.
History
The 660-short-ton (600 t) structure was planned years in advance before Paramount Communications purchased the park in 1992. However, Paramount took over operations in time to determine the ride's theme which was based on the Paramount Pictures film Top Gun. They hired John DeCuir Jr., a production designer that worked on the film, to design the ride's loading platform, so that it would resemble the deck of an aircraft carrier. Subsequently, the roller coaster was named Top Gun when it opened in 1993. The ride's queue, where guests wait in line, featured music from the motion picture as well. An aircraft carrier control room exhibit was also a feature that guests would pass through on their way to the loading platform above. Access to the control room exhibit was blocked off from the line queue several years later, some time before Cedar Fair purchased the park in 2006.
Top Gun was renamed Flight Deck in 2008 following the sale of the park to Cedar Fair two years earlier. The theme music and sign were changed to remove all references to the movie. Cedar Fair had rights to continue using the Top Gun movie theme through 2016 but made the decision to remove all Paramount themes from the park much sooner. On October 29, 2013, the 33rd anniversary of the announcement of the original Bat, the park announced that Flight Deck would be renamed The Bat roller coaster for the 2014 season. The ride was repainted with a new color scheme of orange track with charcoal supports, and black trains.
This video of Kings Island was recorded with the daVideo Rikor DVR camera glasses.  To see more videos and photos captured with our video camera glasses, click here.
Ride layout
The Bat roller coaster begins with an ascent up a 90-foot (27 m) chain lift. At the top, the train dips slightly and turns roughly 225 degrees to the right. The train then drops 70 feet (21 m) into a valley banking right at the bottom as it begins to climb into the horseshoe element. The cars swing up and around to the left exiting the horseshoe parallel to same position during entry. Dropping back into the same valley, the train makes another banked turn to the right followed by a slight turn to the left as the it passes by the observation area located near the exit.
The last part of the ride takes riders through a final series of sharp turns, each sending the train swinging quickly from one side to the other. At the ride's farthest point from the initial drop, the track makes its sharpest turn sending the train back toward the loading station. Afterward, the train navigates two more inclining turns before stopping abruptly at the brake run. The sudden brake right out of the last turn causes the cars to swing briefly even after the train has stopped moving forward.
The Bat roller coaster has a similar layout to the Vortex at Canada's Wonderland, which was built two years earlier. The Vortex, however, has one less car on each train and excels in height, speed, and track length.
Banshee – The Bat – Delirium – Drop Tower: Scream Zone – Invertigo – Xtreme Skyflyer – Backlot Stunt Coaster – The Racer – Vortex – WindSeeker – Firehawk – Flight of Fear – Boo Blasters on Boo Hill – Eiffel Tower – Adventure Express – SlingShot – Flying Ace Aerial Chase – Woodstock Express – Diamondback – Kings Island & Miami Valley Railroad – Mystic Timbers – The Beast

Record Video on Bat Roller Coaster
Our HD quality daVideo Rikor 1080p camera sunglasses have a unique tiltable camera lens that can be adjusted 12° downward and 10° upward. The water resistant frame is made of a super lightweight & flexible Grilamid TR90 material, shaped to fit different head sizes. Our ANSI Z87.1 standard, UV400, interchangeable quality lenses are 2.2mm thick and are designed to handle extreme sports. Adjustable comfortable nose pads allow a custom fit to meet the needs of all different shaped faces.
The daVideo Rikor 1080p camera sunglasses record at 1080 @ 30fps or 720 @ 60fps perfect for recording video on Bat roller coaster.  The 110° wide angle Sony low light sensor lens captures high speed action in your videos. The dual channel AAC2 true stereo microphones capture crisp clear audio, with noise reduction. Built-in WIFI allows you to connect your daVideo Rikor glasses to our free iOS/Android mobile app and change settings or share your videos with friends.
Click here to see how our high tech daVideo Rikor 1080p camera sunglasses compare with the daVideo Akia and daVideo Presta. Visit our shop to see all our products.
Why Bat Roller Coaster Video Turns out Perfect with daVideo Rikor
HD 1080P / 720P
daVideo Rikor HD video camera sunglasses record 1080P @ 30fps or 720 @ 60fps. Capture perfect (POV) point of view video on Bat roller coaster.
TILTABLE LENS
Tilt the camera lens 12° upword or 10° downward to capture the perfect shot.
WIFI / APP
The daVideo Rikor 1080p camera sunglasses can output a wifi signal. Wirelessly connect it to any iOS/Android device using our free mobile app.
IMPACT RESISTANT
Thick 2.2mm lenses for your video camera glasses. Reinforced frame & impact resistant.
PHOTOS
Our advanced video camera glasses have a built in high quality 12MP camera
Take still photos with one easy click. Take one picture at a time or take a burst shot of 3 or even 5 photos at a time!
VIDEO
Compressing format: H.264
Resolution: 1920 x 1080p @ 30fps and 1280 x 720P @ 60fps
Ratio Image: 16:9

VIBRATION NOTIFICATIONS
Video camera sunglasses notify you with vibrating notifications and LED lights. Perfect for hands free operation while enjoying your favorite activity.
EXPANDABLE MEMORY
Add up to 128gb memory to your video camera sunglasses. This means you can store up to 30,500 12MP photos!
LOW TEMPERATURE BATTERY
480mAh high capacity lithium polymer battery can handle extreme temperatures between -4 degrees Fahrenheit (-20 degrees Celsius) to 131 degrees Fahrenheit (55 degrees Celsius)  Takes about 1-2 hours to fully charge battery.
Our 1080p Camera Sunglasses Guarantee
Same Day USPS Shipping (order video camera sunglasses by 3pm EST.)
Free Shipping In The USA
UPS Overnight Shipping (USA Only)
Fast Global Shipping
30 Day Returns & 1yr Warranty
The Beast Roller Coaster Photos – Kings Island Haunt Photos – Cincinnati Zoo Photos – Rock Climbing Photos – Dog Photos
Backlot Stunt Coaster Video – The Racer Video – WindSeeker Video – Adventure Express – Diamondback – Mystic Timbers – The Beast
Follow us Online
Facebook – Twitter – YouTube – Instagram – Pinterest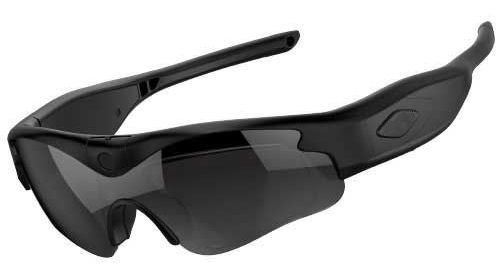 daVideo Rikor – daVideo Akia – daVideo Presta – Compare – Track – Contact – Videos – Coupon Codes – Payments – About Us – Become a Dealer – Warranty – Return Policy – Shipping – Troubleshooting – Dropship – Send Videos – Account – Cart – Checkout – Shop